The trendiest thing you can do in your garden is whatever makes you happy! While we encourage that to be your goal, we still love to share what's rising in popularity, in hopes of providing some inspiration to gardeners everywhere.
The forecast for 2022? Intention in the garden. Considering how everything—each plant, piece of garden art or furniture, structure, material, pot, and more—contributes to your space as a whole.
1. Including Plants that Transport You to the Tropics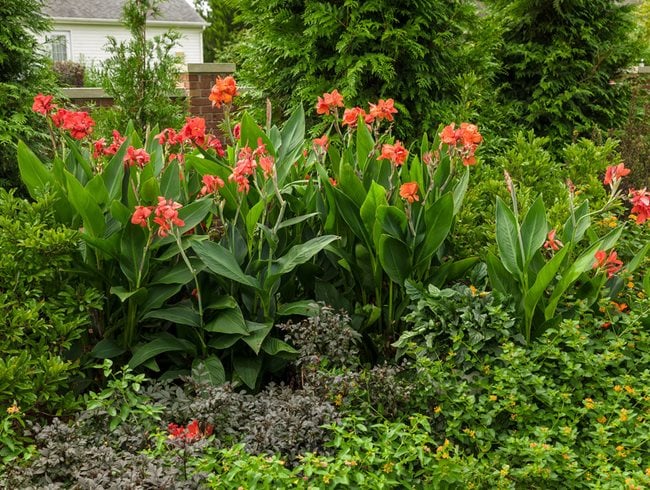 Travel restrictions continue to deter many from venturing out, but that doesn't mean you can't still get the feeling of being in a far-off destination. The types of plants best for evoking the "faraway" feels? Tropicals. Though tropical plants have always been a favorite, nurseries have seen a recent boost in popularity.
If you're new to tropicals, here are some beauties to get you started:
Caladiums (elephant's ear), which come in varieties for shade or sun, are known for their showy foliage.
Rose of Sharon is a hardy hibiscus with some varieties that can be grown down to Zone 5.
Rose mallows offer stunning flowers similar to hibiscus. Many varieties are hardy to Zone 4.
Cannas have jungle-like leaves and upright stems with blooms in colors ranging from pale pastels to vibrant oranges and reds.
2. Blurring the Lines Between Indoors and Out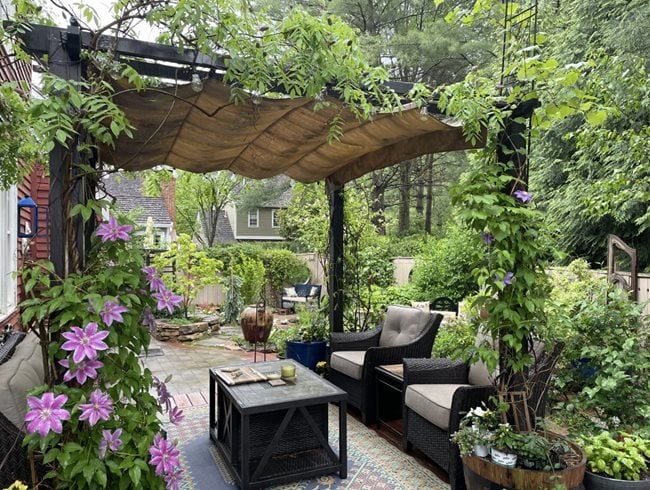 You've heard of bringing the outdoors in and bringing the indoors out—but why not both? So much time at home has led to gardeners realizing that blurring the lines between indoors and out extends the living area. When you stop limiting your idea of "home" to the structure on your property and instead consider your entire property your home, you can create a strong sense of place and connection to the natural world.
Ways to bring the outdoors in:
Set up a small herb garden in front of a sunny window.
Use grow lights to bring plants into rooms that don't get natural light.
Place hanging planters outdoors, positioning them in front of a window so you can look out and see greenery.
Plant a climbing plant along a trellis that's positioned next to a window so you can catch glimpses of it.
Ways to take the indoors out:
Set up "garden rooms" to extend your living space, providing you a place to get cozy while enjoying fresh air.
Screen areas using tall shrubs or hanging plants to create the sense of enclosure you get indoors.
Provide ample lighting with string lights, uplighting, lanterns, and outdoor lamps, etc.
Get comfy. A lounge chair or hammock will make your space more hospitable.
3. Designing with Dark Foliage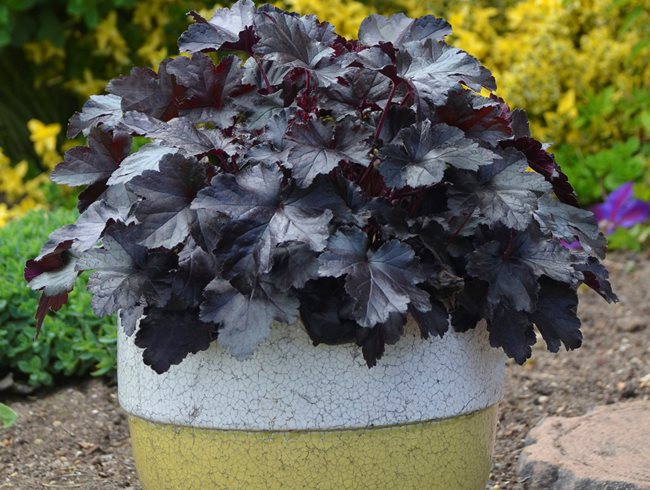 Plants with bright flowers or vibrant foliage colors such as silver or chartreuse are standouts on their own. But the secret to really making them pop is dark foliage. Here are just a few stunners:
Crape myrtle is a deciduous tree known for its resilience. Try varieties with dark foliage such as Center Stage.
Heuchera  thrive in a variety of habitats and come in many colors. A favorite dark variety is  Primo 'Black Pearl'
Ninebark  provides interest all year with its peely bark. The dark leaves of Summer Wine Black contrast its white flowers.
Smoke bush  offers striking color and large, showy flower panicles that create a smoky effect. We love Winecraft Black.
Sweet potato vine is typically grown as an annual and is perfect for hanging planters. Try Sweet Caroline Bewitched After Midnight
4. Gardening for a Changing Climate

Long-time gardeners know that changes in weather are affecting the way we garden. We're all familiar with drought-tolerant gardening and including plants that can handle excessive temperatures, but another manner of gardening is gaining traction: gardening for fires and floods.
Gardening for firescaping:
Choose drought-tolerant plants that retain water which are less likely to immediately ignite.
Avoid plants that have a lot of sap or resin-materials used to start fires.
Add features such as stone paths or walls that function as a firebreak.
Prune back branches of trees that hang over structures.
Create defensible space around your home which can slow and sometimes even stop fire.
Gardening for flooding & excessive rain:
Improve water runoff patterns by incorporating rain garden design principles.
Create a swale to distribute water more equally in an area.
Reduce runoff by including permeable surfaces that allow water to slowly percolate into the soil.
Choose plants for erosion control, especially on hillsides. These plants have roots that run deep and hold topsoil in place.
Select water-loving plants for locations on your landscape where water collects.
5. Taking Your Food from Start to Finish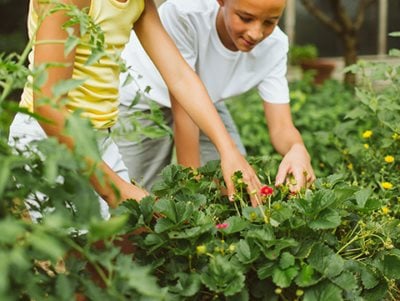 Edible gardening is a perpetual trend, but it's always evolving—and so is the way gardeners approach it. An aspect of this trend that continues to rise in popularity is growing food from seed.
Last year, many seed companies reported record sales—some completely sold out of edible seeds, and many gardeners weren't able to get any. If you're interested in growing food from seed, get your seeds early!
For some gardeners, eating what you sow isn't a new concept. But others are just discovering the many benefits:
Ensuring clean eating. You control the type of soil, fertilizer, and seeds that are used.
Saving money. Buying 100 seeds is sometimes less expensive than buying one transplant.
Experiencing joy. Taking your food from seed to table is fun.
Involving kids. Kids are more likely to eat food they've grown.
Reducing your plastic use. You'll be purchasing less produce at the grocery store. You can also use Eco-Pots instead of plastic seed-starting trays (they also makes transplanting easier!).
6. Gardening for Wildlife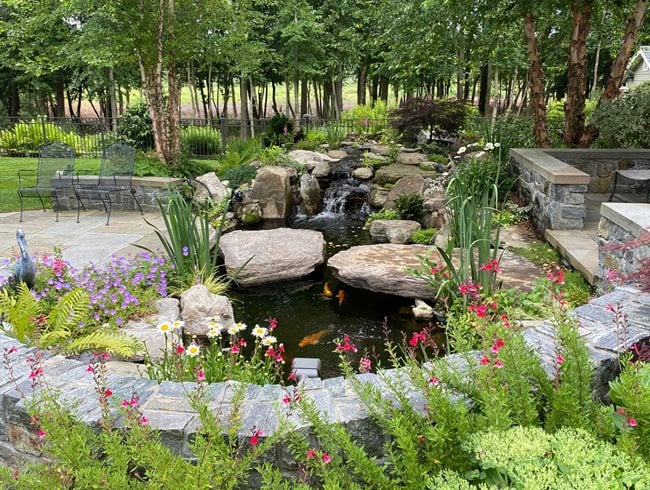 Gardeners have been striving to make their gardens more wildlife friendly for years. But it's becoming more common for gardeners to be more intentional about every single thing they do—not just putting up a bird feeder and calling it done. They're finding that you can have it both ways: a garden that's beautiful and serves local wildlife.
Looking for inspiration?
Reduce or replace your lawn with alternatives that do more to support pollinators, wildlife, and soil health.
Include water features that provide a place for wildlife to visit—see this Delaware garden  for inspiration.
Use a diverse mix of plants that thrive in your region as displayed in this eye-catching garden in Portland.
7. Maximizing Balconies & Porches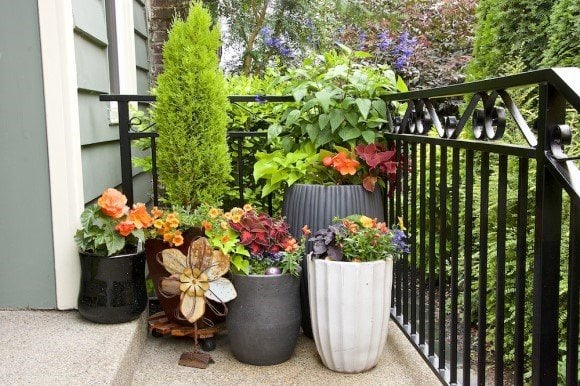 If small-space gardening at your home is limited to a balcony or porch—this one's for you. Staying at home more has led people to become more and more creative with their spaces. It's truly incredible to see how many plants can fit in even just 30 square feet (and sometimes less)!
Here are some ways to fit a lot of plants into a balcony garden or other small outdoor space:
Include large pots that can handle multiple plants (we like these stylish, self-watering ceramic pots).
Install shelves for smaller plants such as herbs and other annuals.
Affix chicken wire to your railing to grow vines or other climbing plants.
Hang pots from the roof of your space, if possible (here's a great DIY on creating a vertical strawberry planter).
Put plant hangers on railing.
Mix edibles and ornamental plants in containers to conserve space.
8. Creating Gardens for Peace of Mind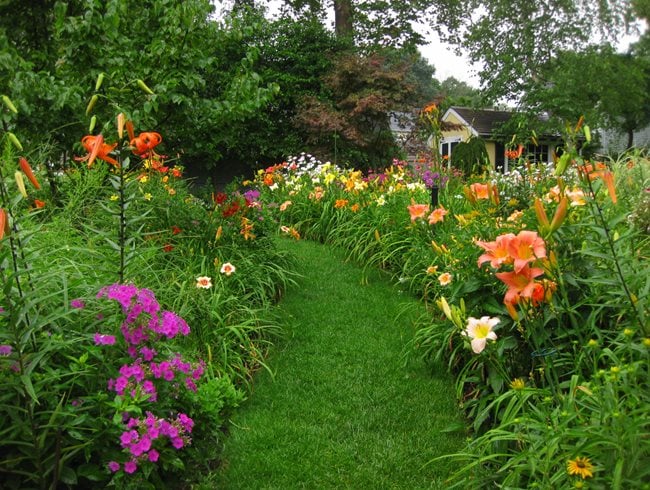 By now, most of us know that gardens are good for our mental health. But while saying we'll spend more time in our gardens is one thing, doing it is a different story. That's why gardeners are becoming more intentional about what elements they add to their gardens, carefully selecting pieces that will draw them in.
Get sentimental. If there's a plant that evokes fond memories of a loved one, find a place for it.
Include colors that make you feel good. Decide which colors you do and do not want and keep that in mind as you select plants.
Create sensory connections:

Include scented plants near spaces where you frequently spend time.
Incorporate plants with soft textures near pathways so they brush up against you as you walk through your garden.
Add the sound of water or plants such as ornamental grasses that make a lovely rustling sound in a breeze.
9. Amplifying Color with Bicolor Plants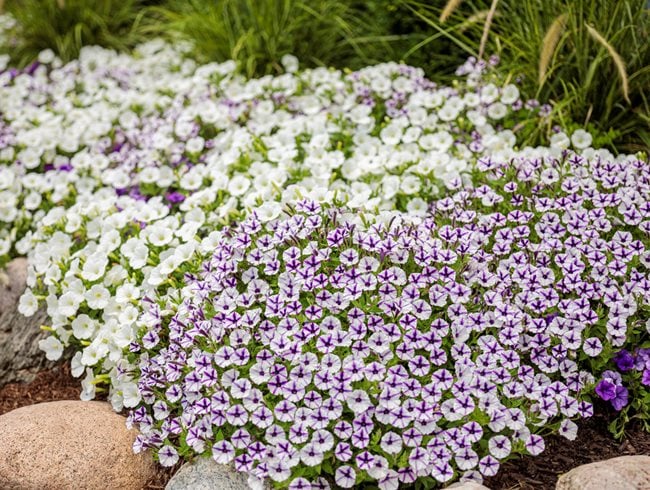 Nurseries and plant sellers are always keeping an eye on what colors people are gravitating towards. More recently, it's bicolor flowers that are stealing the spotlight.
Here are a couple ideas for using them:
Fill an entire garden bed with a bicolor plant. This keeps it simple but still gives you the benefits of multiple colors.
Mix and match. Choose a bicolor plant, such as Supertunia Mini Vista® Violet Star, then choose neighboring plants of each color.
Think beyond flowers and include bicolor foliage too. Plant varieties such as ColorBlaze® Royale Apple Brandy with flowers or other foliage in corresponding colors.
10. Getting the Most Out of Each Season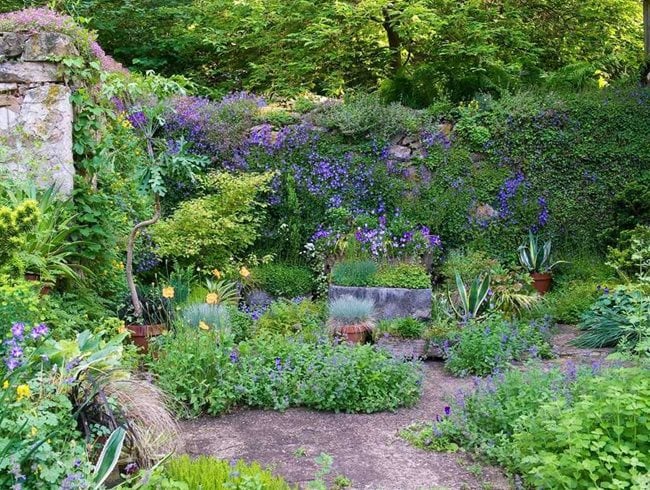 With the increased interest in home improvement, people are starting to look to their gardens for enjoyment not only in spring and summer, but all year. In his book, A Year at Brandywine Cottage, David Culp muses on the seasons, writing, "Plants are a living medium. They grow, they bloom, they die, and that gives each season a different dimension."
Several ways to soak in the seasons in your garden:
Keep a nature journal and document your observations. This is a good practice in mindfulness, but it will also prove to be a helpful reference next year.
Pick one shrub or tree in your garden to observe and even photograph regularly. Your attention will make you more in tune with your plants' needs.
Change the way you approach at least one garden task. For example, if you dread deadheading in fall, leave the spent blooms on your plant a little longer than usual. Notice how it serves wildlife. A different perspective may change the way you view this task.