Growing vegetables in plastic cans
Due to the impact of the Covid-19 epidemic, her work was delayed, Ms. Phan Bich Tram (SN 1990, from Tien Giang) has more free time at home to grow vegetables. She began to collect and recycle plastic cans and bottles into unique pots to grow vegetables and flowers.
"I came up with the idea of ​​gardening to grow vegetables from materials such as cans, bottles, jars, and plastic pots because they are quite easy to find, available at home, but easy to handle, save costs, and contribute to protecting the environment. environment from the smallest actions in life", Ms. Tram said.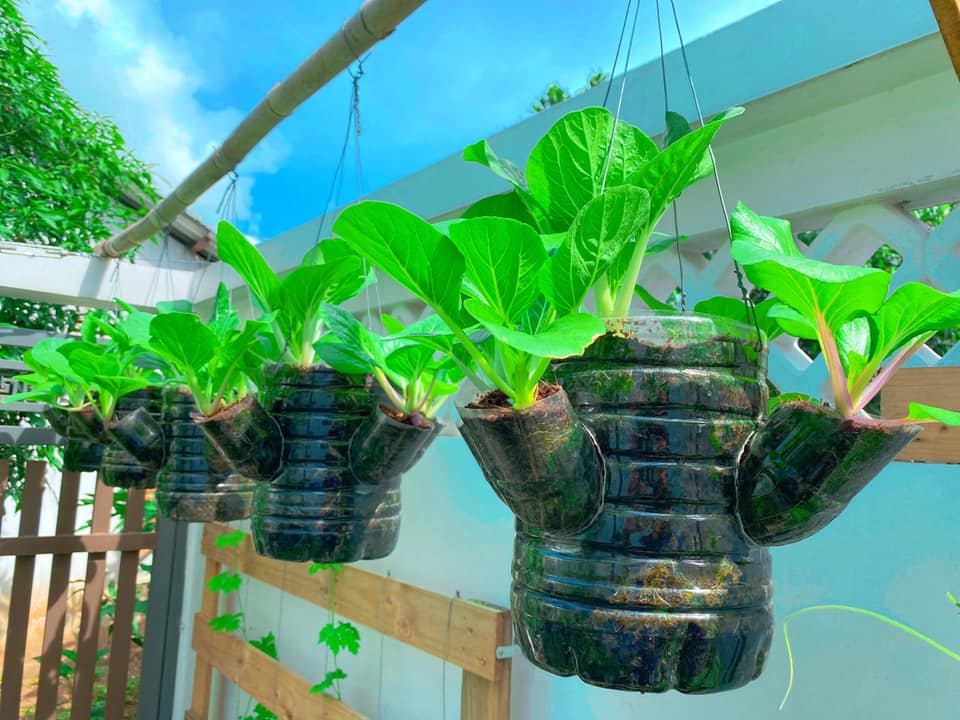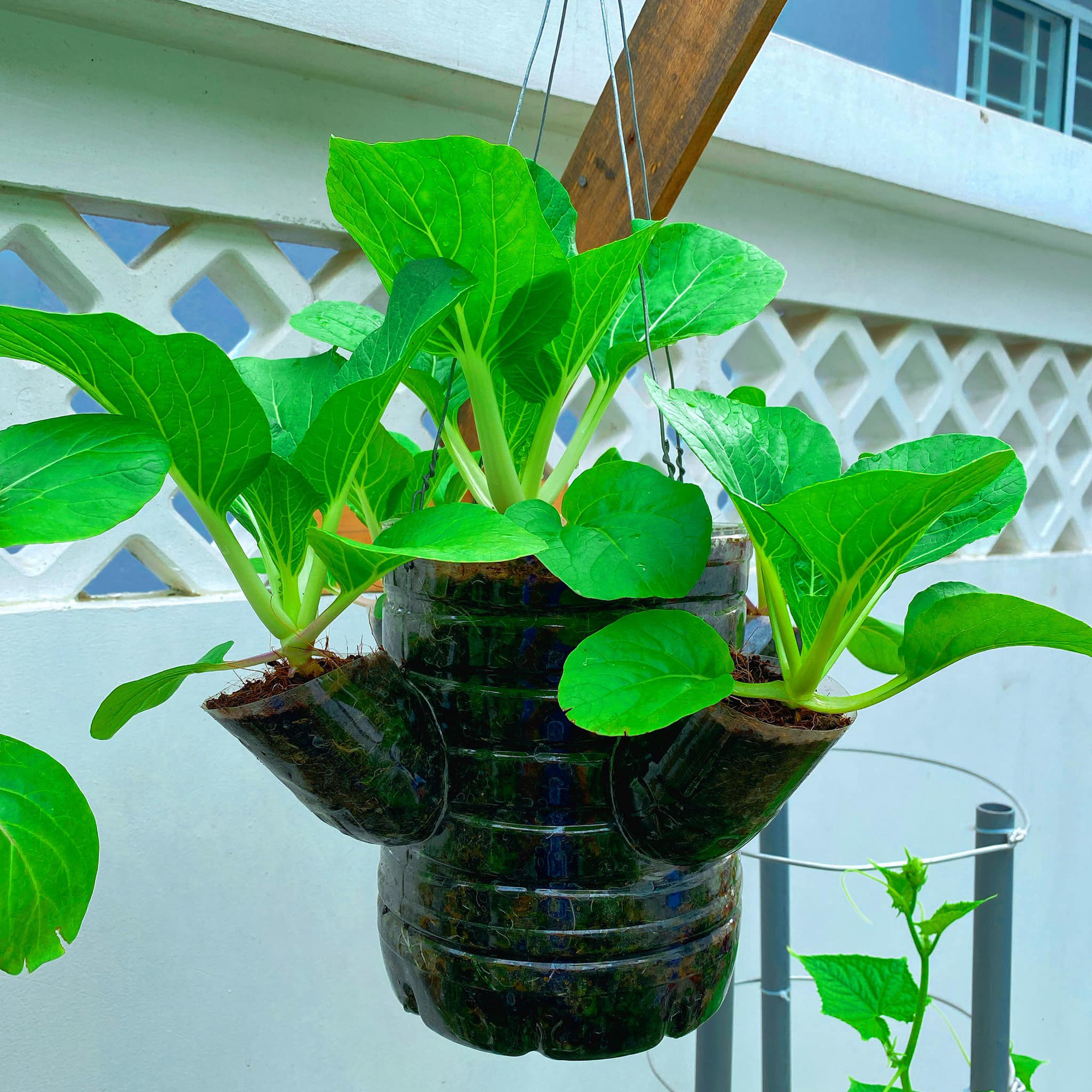 Mustard greens are grown in plastic cans.
Up to now, Ms. Tram's small garden has about 200 pots of vegetables, mainly mustard greens. The 9x girl designs vertical gardens, hanging or creating layers of space to grow more vegetables.
Growing vegetables in packaging
Ms. Thuy Tien (living in Binh Thanh District, Ho Chi Minh City) also shared, Saigon is in the quarantine days, restricting going out to avoid spreading the disease, so she came up with the idea of ​​recycling those items. waste materials to grow clean vegetables.During the epidemic season, Ms. Tram's family is assured because there are still enough clean vegetables for daily meals.
Recycling both helps to protect the environment, has a source of clean vegetables for the family, saves money, and reduces market visits, limiting exposure during the epidemic season.
Thuy Tien also said: "This epidemic season, it is very difficult to buy specialized pots for growing vegetables, so she recycles packaging and fertilizer bags to grow water spinach.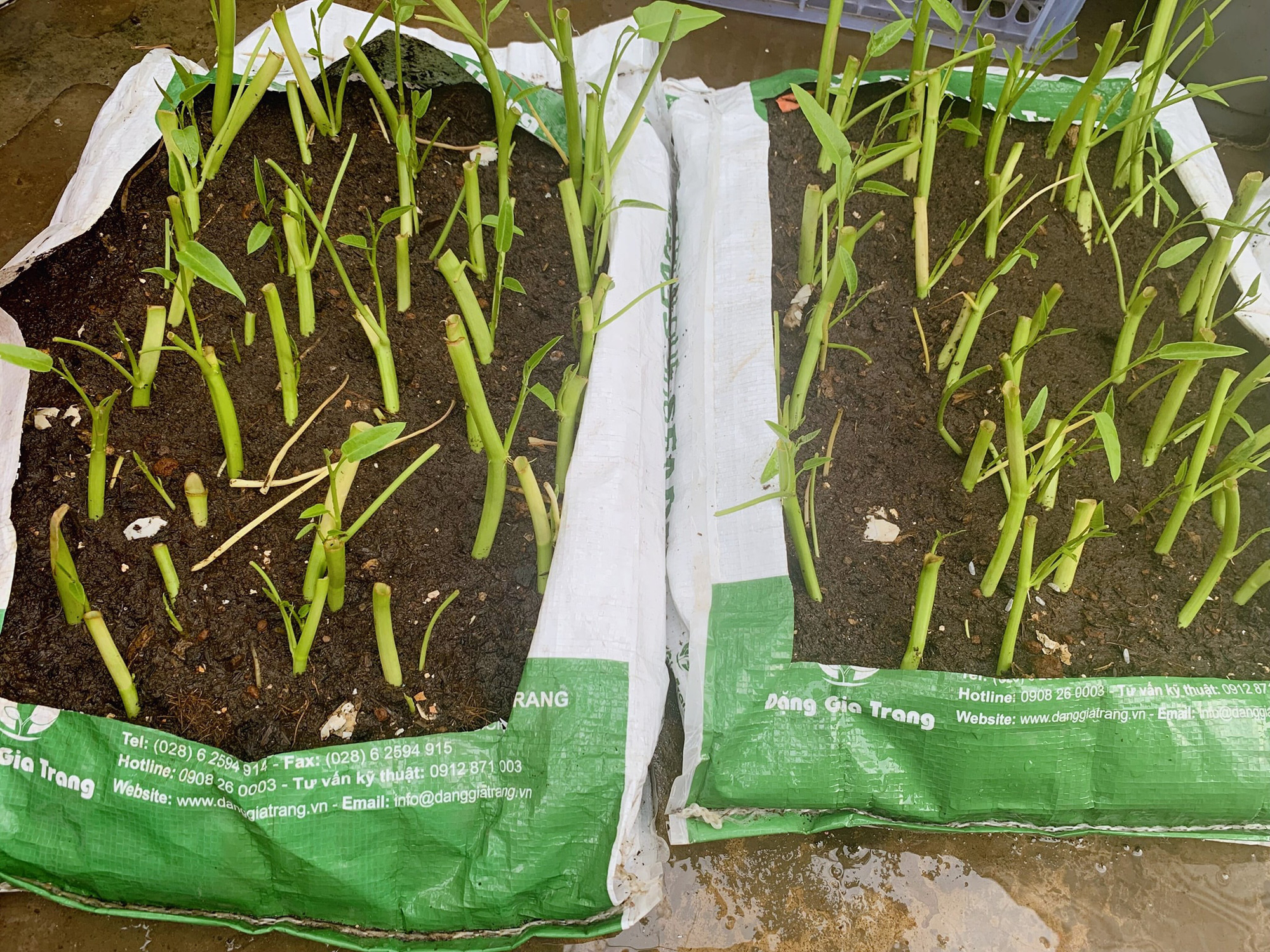 The packaging has been removed, drill a hole for the soil to be able to grow vegetables.
By reusing the discarded water spinach root, Ms. Tien soaked it in water for 2 days, then planted it, and the soil was reused.
After 2 weeks of planting, Ms. Tien has water spinach to use. Water spinach only needs watering, does not require much care.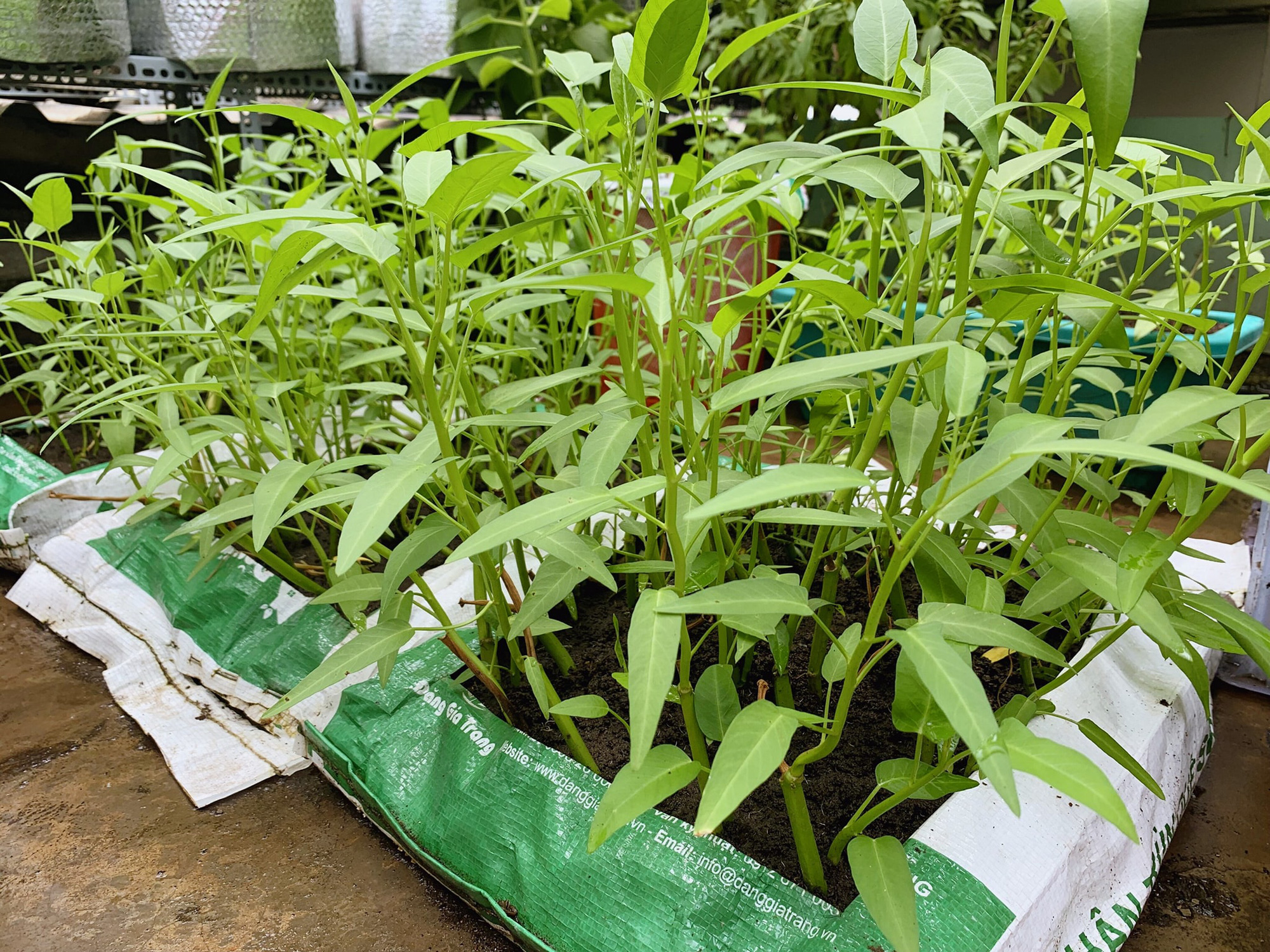 Vegetables can be harvested within 2 weeks of growing in packages.
Growing vegetables in discarded milk cartons
And Ms. Nguyen Hoa (living in Thu Dau Mot, Binh Duong) has an idea to recycle old discarded milk cartons, to grow vegetables and plants.
According to Ms. Hoa: "During the epidemic season, I have a lot of time at home, taking advantage of my free time, I make use of my children's milk cartons when I have used them all to grow vegetables and ornamental plants.
It's simple. Just drill about 5 holes in the bottom of the box to drain the water before planting."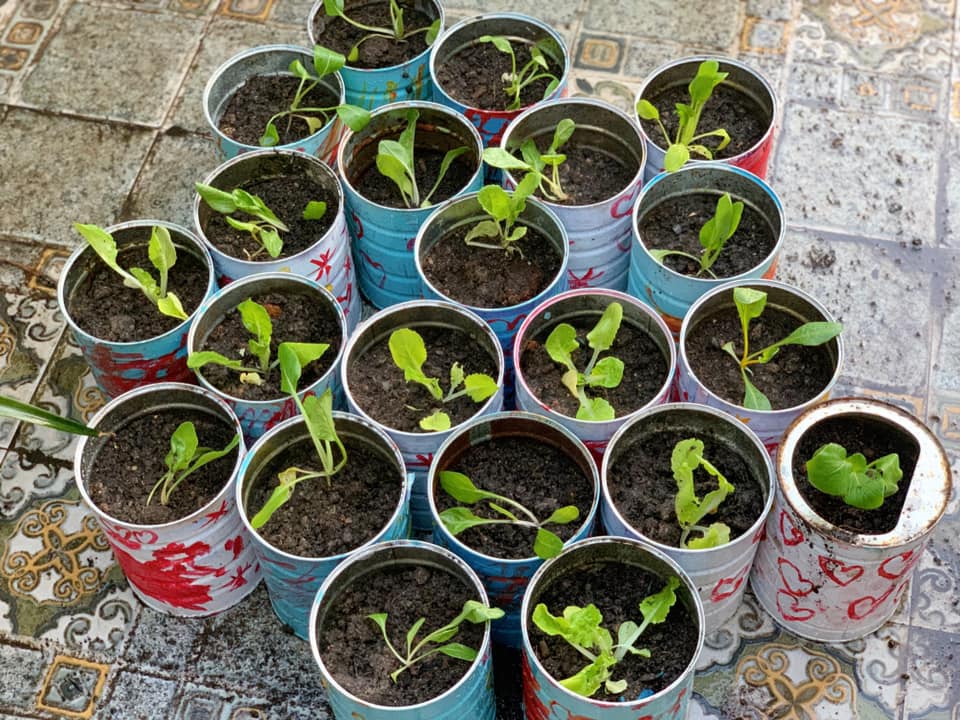 Ms. Hoa grows lettuce in milk cartons.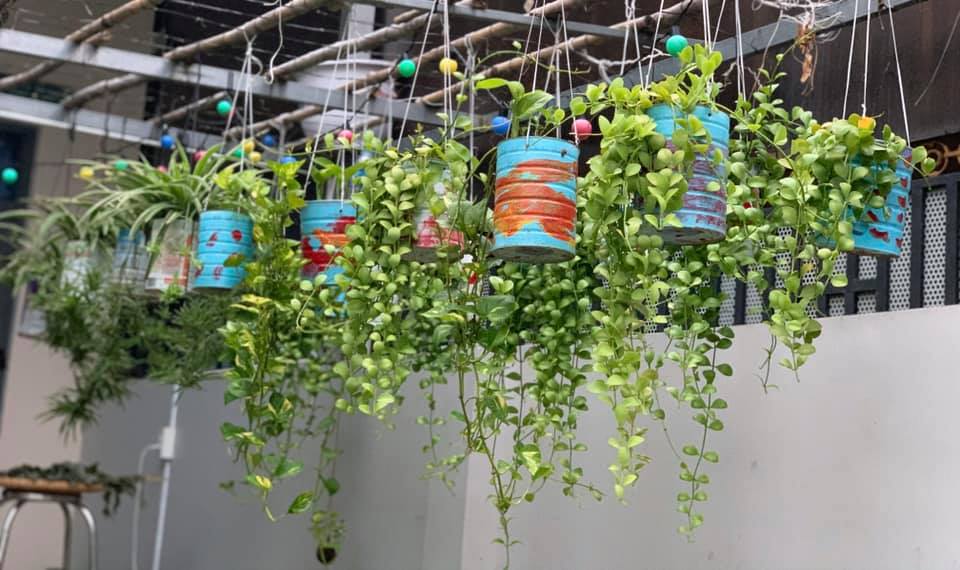 Hanging flower baskets grown from milk cartons in front of the door make Ms. Hoa's house impressive.
Growing green onions in plastic baskets, glass cups
Nguyen Kim Thoa said that because of the impact of the epidemic, vegetables and fruits, especially green onions, were very scarce, so she used purple onions available in the kitchen grown in plastic bottles, glass jars and green onions. plastic basket.
After 1 week of green shoots, green shoots begin to appear, and after 1 week of leaves, you can cut them and eat them. Eat where to cut to that, after 3-4 times of cutting should add more nutrients in water and soil for onions to continue to grow.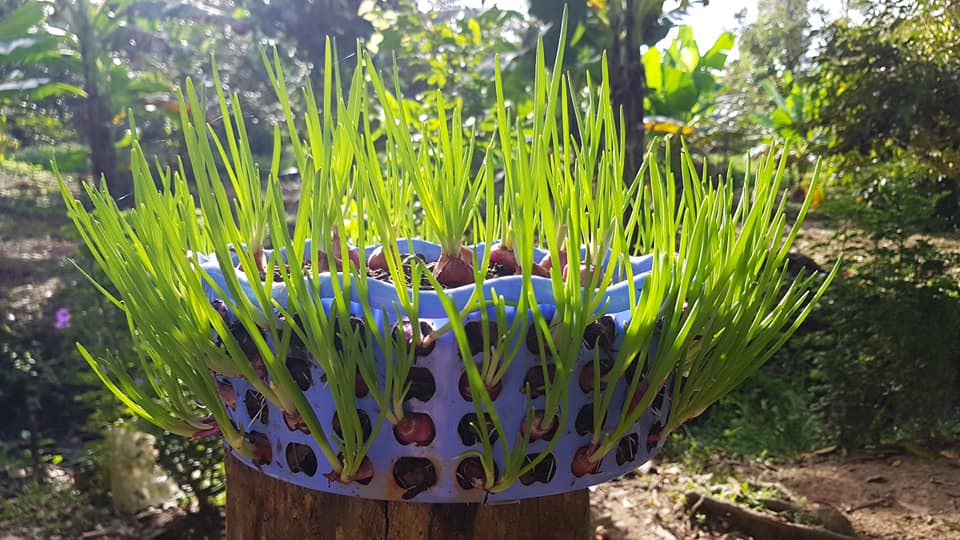 Green onions grow well in plastic baskets.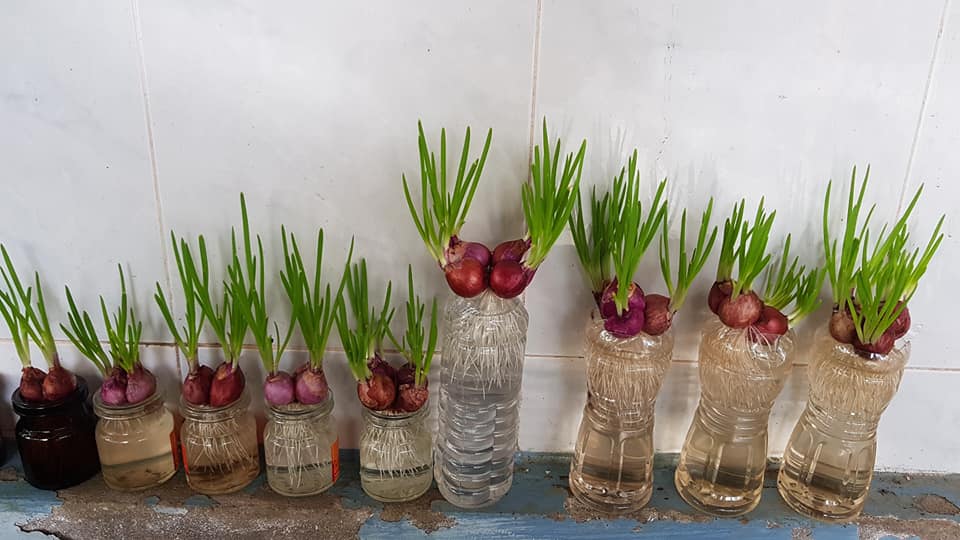 Growing green onions with water in plastic bottles, glass jars.